WE'RE ON A MISSION, AND WE NEED YOUR SUPPORT!
Ready to be a part of MISSION SUPPORT?
Choose a person you'd like to sponsor below, and then choose the CLICK HERE TO SPONSOR ME button next to their photo. This will take you to the MISSION SUPPORT SPONSOR STORE. 
Add to your cart and complete the checkout process as usual.

Don't worry - we have the recipient's shipping address, so once checkout is complete, we will ship to them on your behalf, and we'll email you a $5 HandBand Pro® Gift card that you can use any time! We'll also send you tracking information so you'll know when your gift arrives at the destination.

Use the NOTES section at checkout if you'd like to write a short note with your gift, and we will include it for you!
___________________________________________________________
If you use a wheelchair, you may be eligible to receive a free pair of HandBand Pro® through our MISSION SUPPORT Program. Click here to request a sponsorship:
___________________________________________________________
AVAILABLE SPONSORSHIPS
 Marie Pontini
 Hi! I was diagnosed with Multiple sclerosis in 2016 and my condition degraded quickly within a year, that forced me to stop working and to use a wheelchair in 2017. I have also Ehlers-Danlos Syndrome and Gastroparesis, had 3 surgeries in 2018, one complete hysterectomy( removal of uterus, fallopian tubes and ovaries) , expecting 5 in 2020. I started to do bodybuilding in 2017 to fight the pain of my body. It doesn't reduce the pain, quite the opposite, but at least I chose that pain. My condition is gradually getting better since a year. I'm going to participate to a bodybuilding competition in 10 days. With my Instagram page, I motivate others and help them to see the positive of any situation. I also inform on physical activity and chronic illness, and increase awareness. A new pair would help me "save" my hands. With Ehlers-Danlos Syndrome, my connective tissues don't hold together and my skin is very fragile. I damage my hands with weight lifting so it would help a lot. Thank you very much for your support in advance, Marie xx
KELLY BUTLER
I am a fighter who refuses to allow my multiple sclerosis diagnosis lead to inactivity and isolation, even since becoming wheelchair dependent in 2018. In an effort to minimize symptoms and slow my disease's progression, I have been active for years--running, cycling, triathlon. It looks a little different these days, now that I am completely non-ambulatory and rely upon a wheelchair. Less than one year from when I became wheelchair dependent I completed a 5k in my every day chair, a triathlon as a wheeled athlete, & rode in BikeMS on a hand cycle. Currently I am training for my first OCR as well as a marathon in my hand cycle and prepping for next year when I want to compete in paratriathlon. For my training I work out in the gym 3 days a week (pulling the tank is my favorite and word is I should explore parapowerlifting); outside of the gym I swim over a mile and hand cycle 10-20 miles several times a week. I also have discovered a love for both indoor and outdoor rock climbing, WCMX, and kayaking. My dream is to become a competitive adaptive athlete. More important than my dream is my goal to inspire others living with MS, other chronic diseases that zap your energy, and those with disabilities that even though a condition can make an active lifestyle challenging it is not impossible and that you can truly do whatever you want to do if you commit, show up and do the work, and never ever quit!
TONYA ADAMS
I'm an Air Force Veteran who was medically retired after being diagnosed with PTSD and Multiple Sclerosis. In 2010 I went paralyzed from the nose down and have been recovering ever since. I use a wheelchair for long distances or any situation that calls for long standing. The doctors once told me told me that I would never walk again but now 9 years later I can walk around the house and short distances.
WILLOW ADLER
I'm a disabled wheelchair user and former service dog handler! I am passionate about dog training and was heavily involved in social justice advocacy before I got too sick. My body doesn't allow me to do much anymore, but I do love visiting Disney on good days and spending time with friends. I've always adored my hand bands, and thanks to some wonderful people, I was sponsored a couple years ago! Due to changes in my disabilities and the wheelchair I use, I require more hand protection than the smaller hand bands provide. Imagine my surprise and excitement when I saw the new Universal grip bands! They would be absolutely incredible on hills and for use when I get my new service dog. My friend and I both love handbands and have wanted a larger grip area for some time. I hope to have the opportunity to have access to a pair and cannot thank the HandBand team and sponsors enough for doing what you do. I am in the purple tank top in the photos, my roommate and best friend, Rose, is also pictured!
JANAYE KEARNS
Hi I am Janaye a TBI survivor, i use a wheelchair part time and hand bands have been the only thing that has really worked for wheelchair gloves plus I have weakness on my right side so it helps me grip of the wheel. The pair I have now are falling apart but have lasted longer than anything before them. I have a wonderful service dog called Colt and if you would like to see us and what he does for me you can check us out on YouTube and Instagram at ServiceDogColt. Thank you
Rodolfo Nuñez
As a wheelchair user I have had bad experience with my wheels since I am almost 18 years old. In a wheelchair, the experience is that after a routine day I end up with my dirty hands and become this, I have ended up with an infection after praying to smile at me. I would like to try your product
KRISTINA YORI
 DAVID GUIDRY 9/2/19
Hello, my name is Kristina, I'm 23 years old and I live in Los Angeles, Ca. I have been a wheelchair user for 5 years now. I have multiple chronic health conditions including Ehlers-Danlos Syndrome, Postural Orthostatic Tachycardia Syndrome, Gastroparesis, Chiari Malformation Type 1 and Craniocervical Instability. I am in the process of choosing my second service dog and with this pup will come many outings and training sessions, all requiring comfy breathable gloves for my hands. Not using gloves causes painful blisters and burns on my hands, especially when it's hot outside as wheelchair rims are metal. The gloves I have now are not breathable at all and cause my hands to sweat so much. They are not meant for wheelchairs and do not have grip because of it. Due to many health conditions I don't have much money, and with a service dog prospect on the way my funds are even more limited. Will you help me protect my hands and give me the ability to get out and train a service dog to help me become more independent?
David T Kellam
Hi my name is David I am a paraplegic that was injured in a motorcycle accident back in 2010 when I was 21 years old. I've always been a competitor at heart because I played football and ran track! I believed I had the skill and will to play in the NFL one day. Fast forward to today my dreams and goals have shifted to helping youth in similar situations not only paralyzed but able-bodied as well with life skills and to be more active.
Jackie de Waard
I've been wheelchair bound for a little over 10 years now, due to EDS (a connective tissue disorder that makes all my joints extremely loose and prone to dislocation). I still love to explore though: just go into a forest somewhere with my dog, take a roll by a river, or discover a new city. However, I haven't yet been able to find the perfect pair of gloves, and my hands pretty much scream for them with all that off-road activity. This brand looks really promising, so I'd love to give them a try. Thank you so much for reading this short version of my story, and for considering sponsoring me!
 ANONYMOUS 7.29.19
I'm 38. New to a wheelchair as I have just been diagnosed with Hemiplegic Migraines. My right side goes completely paraplegic. It's appears as if I'm having a stroke, complete loss of right side from head to toe. I also lose all speech so I'm reliant on my chair and my left side to keep me mobile. And speak with the little bit of American Sign Language I've learned thus far. All of which becomes strenuous on the 1 hand and 1 leg. To get diagnosed I have gone to 3 hospitals, numerous Dr.'s and have acquired 1000s in debt. A pair of gloves that I do not have to spend money on would be phenomenal. Thank you for your consideration.
Chrissy M
 ANONYMOUS 7/15/19
I'm a 30 yr old disabled mom. I'm also a 15x sepsis survivor. I'm also a wheelchair user a lot of the time. NM summers are intense and it rips your hands up if you dont have hand protection. I would be grateful for a pair of handBand Pro. Thank you
Andrea S
I am a single parent wheeliemum from a very active 6 year old boy. After suffering a spinal cord injury three years ago, we had to re-adapt our whole life. little boys are unstoppable, I would have to get fit enough to keep up with him on every playground. To stay fit, I do adaptive CrossFit. In the beginning it was not easy to accept my new situation, but the sport helped me a lot. also the first time to roll into the gym was a big overcoming, fortunately I had a very good adaptive CrossFit trainer, which has the entry relief. I use handbands around the clock 24/7, in the gym and in my free time. I have tried many different gloves, but just as a young woman, you also want to have your own style and not use the same as all the old people. I found that with handbands because style and function are perfectly combined.
RUDY FIMBRES
Hi, I'm Rudy. I use a wheelchair due to Spina Bifida which does not stop me in anyway. I am very involved in my community, I help in the disabled community, The homeless, Our Nation's Veterans and Children with Cancer. I would love to get more involved in sports. I have tried many sports in the past (Wheelchair Basketball, Tennis,Rugby, Racing.... ETC..... I know HANDBANDPROS would help me by keeping my hands safe.
 Emma Webber
LOUIS MORALES 5/23/19
 I am a 19 year old wheelchair user who loves art, making youtube videos and spending time with friends.
 CELIA TORRES
LOUIS MORALES 5/23/19
I got diagnosed with Postural Orthostatic Tachycardia Syndrome recently. POTS affects my body's ability to regulate its blood volume when I sit up or stand up. I get high heart rates, become nauseous, pale, blood pools in my limbs, I'm chronically fatigued, and I can faint. All of this and more has stopped me from being able to walk.
Nancy Brown-Mattiace
Glorybelle Lillie 11/6/17
I am 19 years old, and have chronic Hemiplegia caused by a migraine disorder, and extreme weakness in my lower body due to POTS. I have had handbands before and loved them so much that now I want another pair to replace my old ones (they ripped). I would be honored to have a sponsor, and extremely greatful because I am unable to afford them for myself at the current time due to some medical expenses from my last procedure. Thank you for hearing my story, and if you don't help me, I hope that someone else has the honor of recieving kindness from you today.
CHANDLER BIRD
My name is Chandler aka Bing, i am 12 years old, i got fitted for my very first wheelchair yesterday, now waiting for insurance to approve. I have Ehlers-Danlos syndrome, Chiari Malformation, cranial cervical instability and i am in a hard cervical collar and have been for close to 2 years,, sleep apnea, Dysautonomia and other things. My sister uses handband pro for her hands and it has helped her so i felt these would help me too I love mindcraft, you tube, and children movies
JASMINE BIRD 
 @hipchick2
 I am Jasmine, i have been in a wheelchair for 6 years, i am 16 and i use hand bands to keep my hands from blistering, i have been using hand bands for 2 1/2 years and they really help me. My favorite color is red, black, purple, and i love things that have anime and skulls. I have a condition called Ehlers-Danlos syndrome, Dysautonomia, partial paralysis so i rely on my wheelchair for outings
CODY WILLS
7
 Jessica Brunet 12/7/201
I raced pro am motocross and in 2011 I had a wreck that caused a c6 incomplete spinal cord injury. I have limited hand function and currently use a active hands gripping aid or wrist hooks in the gym 5 days a week
JAYMI HOLCOMB
Ann Tan 11/5/17
I'm jaymi, I'm 20 and I've got a genetic condition called ehlers danlos syndrome which limits my mobility. It also causes damage to my tendons and ligaments and I dislocate my joints easily. I'm a part time wheelchair user, service dog handler, and dog trainer. My wheelchair increases my independence, and a pair of hand bands would help me to do more, easily!
JONATHAN GUZMAN
Glorybelle Lillie 11/6/17
I was diagnosed with synovial sarcoma a rare type of cancer earlier this year in order to potentially save my life I had to get my right leg amputated about 3 weeks ago life has been hard especially now that I can only move with crutches or my wheelchair my dream is to be able to run again and walk on my own your sponsorship would mean so much to me
Jaci Tatro
 Anonymous 9/1/17
ENJOLRAS JOSETTE
ANONYMOUS 11/17/17
I'm a young adult with EDS, dysautonomia, fibromyalgia, among many others and use a wheelchair and a service dog. I've been trying to save up to buy a pair but being disabled and low income I've had many unexpected expenses and haven't been able to. I greatly enjoy going out and letting my service dog go on long walks. I'm in constant severe pain from my conditions and do my best to still be active and social in my community. Little accommodations like this help more than most people can comprehend, I'd be so appreciative if I was able to get a pair sponsored.
MOLLY TURNER
Alicia Denney 11/2/17
I am 18yrs old and live in Wales, I want to be a forensic psychologist however I've been on medical leave for 2 years so I'm a bit behind! I have Ehlers-Danlos Syndrome and PoTS which have made me reliant on a walker and wheelchair to get through day to day. I have always been an athletic person, I have been training as an aerialist for 4 years so my diagnosis broke my heart and forced me to reconsider my life (I was on my way to a profession in circus). I love the outdoors, cross country running and walks with my dog and I'm having to figure out how to do that in a wheelchair. Apart from the shoulder aches the first thing you realise is how much it trashes your hands! Especially if you like being outdoors with hills, breaking/slowing down can really burn your hands. My friend recommended handbands to me and after looking through the website they seem amazing! 
Emmett Gonzalez
Anonymous 8.22.17
I'm 23 years old, I am a wheelchair user and I train service dogs. I have been partnered with my seizure alert and response service dog, Daphne, for 3 years now. She also performs retrieval of dropped items or specific items when I am in my wheelchair.
Sydney Braverman
 Anonymous 7/7/17
Madeleine Camille
Anonymous 7/7/17
I have a genetic connective tissue disorder called Ehlers-Danlos Syndrome, along with a damaged autonomic nervous system which leaves me using a wheelchair anytime I'm outside the house. My dreams are to do a 5K and eventually a full marathon with my wheelchair, but finding a pair of gloves that help with grip and that are comfortable and that I can afford. Hands are important to protect, and especially as I love to sew and play ukulele.
RUE FAITHFUL 
Jeff Crowner 7/7/17
I'm a mother of two and I am reliant on a wheelchair when out and about. I really struggling with my health and I'm stupidly stubborn, a electric wheelchair maybe easier but using a manual wheelchair is the last bit of control, movement, choice I have. It feels more rewarding to push myself around with my daughter on my lap then to loose the last bit of freedom I have. Does that sound silly. I've been labelled unfit for work, and I have to be watched for health reasons so my husband is my full time carer so I'm trying to earn money with what little I have left that I can do MamaFaithful.paigeeworld.com Www.patreon.com/MamaFaithful
Alicia Denney
Hi my name is Alicia, I am a wife and a mother of 3 fur children, one of which is my service dog in training. I use crutches/wheelchair to get through the day. I have several medical conditions that make my day to day life very difficult but with the help of my husband and my pup I am able to conquer the days as they come. I love to go in adventures with my family and just got back from Holiday World yesterday, it was a fun filled day with my nephew but unfortunately incredibly hard on my hands with all the hills and my wheelchair. Winning a pair of these would be incredibly beneficial and I would love the opportunity to try them.
ABBY SAMS
Elizbeth Dan 5/22/17
I became wheelchair bound about a week ago when my autonomic dystrophy progressed too quickly to treat. Before I was diagnosed I was among the elite crossfit athletes in my age group. My last competition sent me into what would be my first dystrophic episode that would lead to a two year battle for the diagnosis I have today. I've spent the past 5 months completely reliant on arm crutches and now am in a wheelchair. I still enjoy working out and physical therapy is one of my favorite things. I'm a marine biology major in college right now as well and hope to one day be able to create a conservation and exploration team that is fully accessible for everyone regardless of disability.
CHANDLER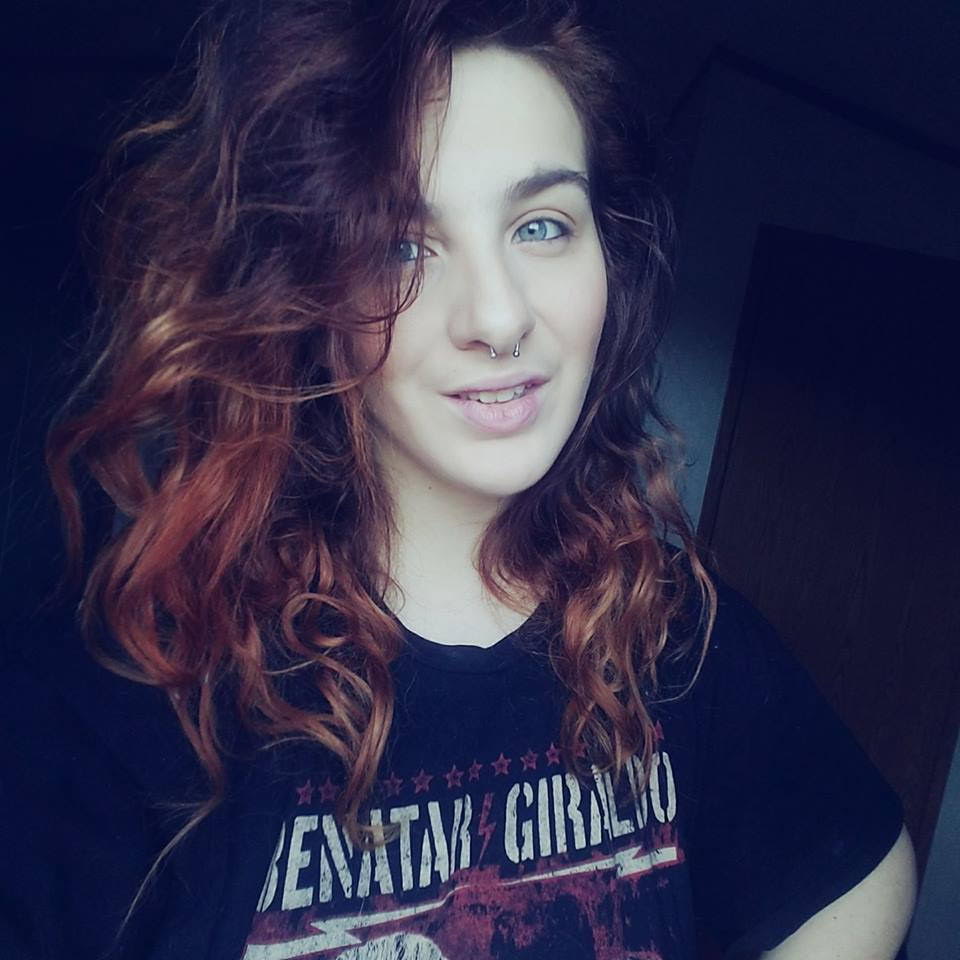 HANNAH KOCHER 4/23/17
My name is Chandler. Yes, like Friends. (If I ever meet Matthew Perry I'm gonna yell at him for ruining my life!) Ready for the kicker? My bestfriend's name is Rachel and her last name starts with Green. I know. Mind blown, right? I'm your average nerdy girl. I like video games, comic books, and going to conventions, but I used to just be your average girl- Walking around Con with my friends, traveling to new and exotic places (Indiana is really flat), taking the stairs without getting exhausted. One day I could use my legs for more than five minutes at a time and the next day I couldn't. Now, I'm your average bad ass wheelchair-ing (shh, it's a word) girl and I zip all over this grand land with hands that no one wants to see because wheelchair hands are not sexy, people! It's never going to be a trend that catches on! Do you know who didn't have Wheelchair hands? Carrie Fisher. You wanna know why I know that? Because I touched her hand last August in Chicago and it was as smooth as a baby's butt! So. Yeah. That's probably a little more about me than you barraged for, but these things are always awkward and I never know what to say. Hope you're having the best day, of the best month, of the best year, of the rest of your life!
JOSIE
I am a 24 year old female. I have Ehlers Danlos syndrome and several other co-morbids. I'm also Autistic. I use crutches and a wheelchair to get around.
Alicia Magliocco
I am 27 year old woman who is a newer wheelchair user. I have spondylolisthesis and have failed back surgery as well as a low level spinal cord injury. I have heard your bands are great especially when pushing in the summer.
This is a photo of my mom and I. She is my rock! She has been there for me in this period of adjustment. We do a lot together but I am trying to be more independent. She has had her own issues dealing with a workplace accident and then breast cancer. If anything can help, like these bands will, I'll take it in helping me rely less on her and more on just myself.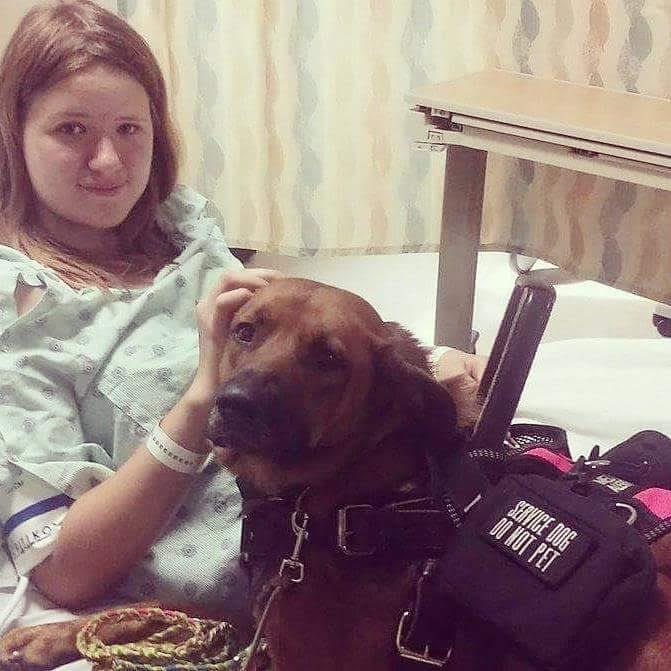 KELLA BARKER
Hello my name is Kella. I am a 18 year old girl who has recently been diagnosed with a nervous system malfunction disorder called Dysautonomia (dis-auto-no-me-a). There are many different types of Dysautonomia, the one I have is called Neurocardiogenic syncope (Neuro-car-de-o-gen-ick) which mean my brain and heart miscommunicate and doesnt send the blood back up from the bottom half of my body, and not enough blood to your brain results in fainting and very low heart rate. Alot of patients end up needing to use a wheelchair as it is safer and we do not get as dizzy and less risk of fainting and doing bodily harm and getting head injuries. Our bodies are smart and when we faint its our bodies way of saying get flat now so the blood can go back up to our brain and heart. A good analogy is think of our bodies as an hour glass when we stand up the blood pools in our legs and bottom half of body just the same as if you stand an hour glass up the sand from the top flows down into the bottom half, if you tip the hour glass on its side the sand is equally distributed in the top half and bottom half same with the blood in our bodies. I would love to be able to have someone sponsor me because I live in Michigan and in winter its very difficut to wear gloves and still wheel my chair, my friend told me she could wear gloves and still use these hand bands and they sound absolutely amazing.

Thanks for taking the time to learn more about me and my disorder.
IVAN AND CARROLL PETTIFOR 4/4/2017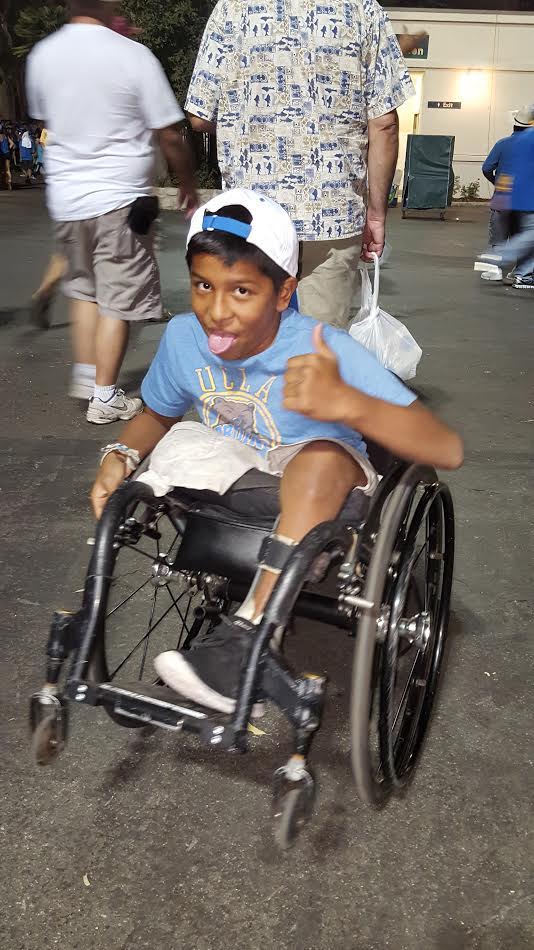 ANGELO M
Angelo is a 16 old boy with Spina Bifida and is very active in his wheelchair. He plays wheelchairsports at school. Even He is in a Leadership club afterschool and he is very active in our community. I have attached my Facebook page and you can see some pictures of Angelo being active in different sports.